Hey guys! Some of you may have heard me mention that I'm taking a little mother-daughter vacation to San Fransisco this week, so while I'm gone I've got a few friends stepping in for me. I hope everyone has a great week, and I may check in once or twice, but we are going "old school" and not taking a computer with us! I know, big gasp!!  This first post is from my friend Jane, from The Borrowed Abode! She always has some great ideas for rental friendly decor, which have really come in handy since we moved into our rent house! And she recently got engaged, so be sure to hop on over to her blog and congratulate her…. Take it away Jane!
————————————————————————————————————————————————
Hi there! I'm Jane from The Borrowed Abode, where I blog about decorating solutions for rented homes, DIY projects, and the occasional update on my experiences in launching my own handmade shop, Janery.
I'm a huge fan of repurposing or "upcycling" old items to create fabulous new-to-you ones for several reasons: it helps you save money, keep unwanted junk out of landfills, and (this is the most important to me) helps you decrease your purchases of unethically-produced items for your home. (Ever wonder how Bed Bath and Beyond, Wal-Mart, Target, and others can offer such "low" prices on home decor & storage items?)
Don't worry – I'm not here to bore you with a lecture on ethical labor. When Samantha was looking for guest posts, I thought that it would be fun to give you all a peek at some of the best "Trash to Treasure" upcycled storage solutions I've created for my home.
1. Custom Fabric-Covered Storage Bins
Last summer my fiance and I tackled our first furniture-building project: bedroom nightstands. And because we wanted to keep things simple on our first foray into furniture craftsmanship, we opted for a simple rectangular frame with a single shelf. No fancy drawers or hinged doors were in the plan.
But with two cats and two dogs regularly shedding in our abode, we opted to add some covered storage in each nightstand – in the form of decorative storage bins. But it was impossible to find bins that were the right size for the nightstands.
Enter the Upcycled Fabric-Covered Storage Box: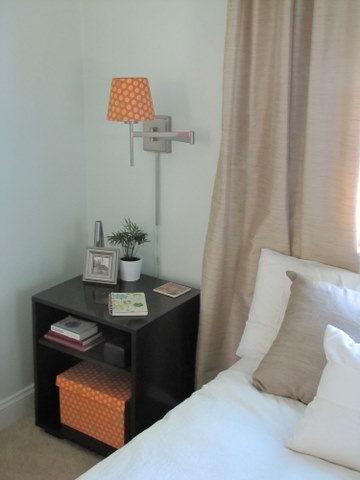 That cheerful orange box in the photo above is totally durable, absolutely functional, and was created with a single afternoon, a few items from the craft store, and a yard of fabric. The best part? The box I used was the one that the wall lamp arrived in – and I was so stoked to be able to re-use the "trash" that resulted from having the lamps shipped to our house. Want to see just how it went down? Hop on over to read my tutorial.
2. Double-Duty Wall: Hat & Jewelry Storage
If you're short on cash and/or closet space, you may love this two-for-one solution in which my wall gets all snazzy without springing for all sorts of pricey storage options. Container Store, I heart you and your fancy Lucite storage options but I do not heart your prices – or the Made in China labels!
Because we don't have the chaos/awesomeness of kids in our lives yet, I'm fortunate to have my very own dressing room / sewing studio. While most of the room is dedicated to my sewing, I saved a bit of wall space for both jewelry and hat storage – then grabbed some items that were otherwise destined for a landfill, and got to work!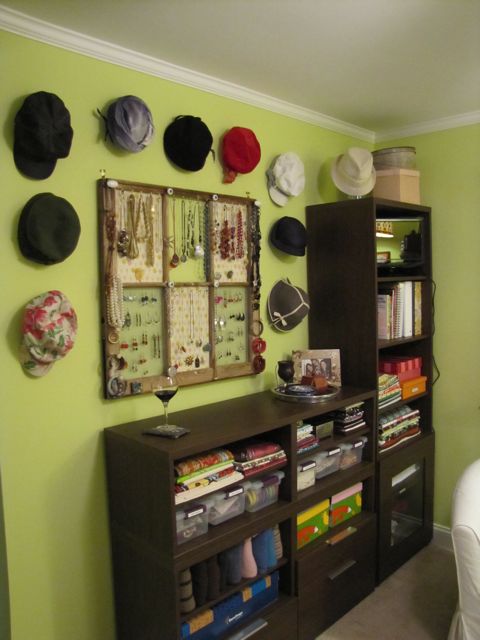 So I'm sure you can tell from the photo above that the jewelry is stored on an old wooden window frame. It was a heck of a project and I just love how it turned out. Now all my jewelry is perfectly organized and displayed right before my eyes – which makes accessorizing a cinch! I shared the full tutorial here.
As for the hats – well I bet you can't guess how they're hanging! In the past I'd tried hooks, but the hats always fell off of them. The solution? In a moment that can only be described as sheer inspiration, I stuck Chinese food takeout containers on the wall using Command adhesive strips. They worked like a charm.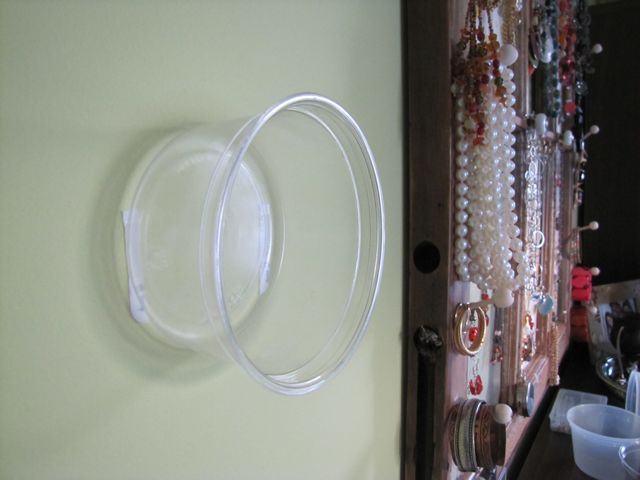 3. Hanging Scarf Storage
This last project is a total quick-n-easy solution that anyone can do. I promise, you don't need any DIY experience.
When my bestie decorated my old apartment's bathroom as a gift to me, she got new shower curtain rings. I held onto my old plastic shower curtain rings, not sure what to do with them – but reluctant to send perfectly good items to a landfill. (Some may call that hoarding . . . but I call it . . . um. . . being prepared for future DIY projects!)
Well, they came in handy shortly after that, when I was wracking my brain in search of a scarf storage solution. This is definitely trash to treasure at its best because it's so multi-purpose – you can use it for scarves or fabric swatch storage/display. Heck, if the man in your life isn't afraid of a thrifty fix, you could probably use it as a necktie holder, too!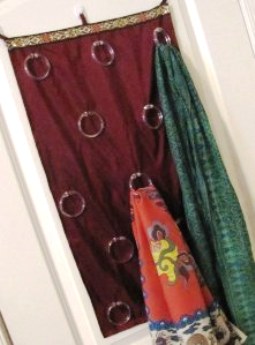 With a few plastic shower curtain rings, scrap of fabric, and a needle & thread, you too can create a hanging scarf organizer like the one shown above. Or, if you only have an old cloth ribbon and no scrap of fabric, you can create a smaller version like the first one I created.
I hope you've enjoyed a peek at some of my favorite upcycled storage projects. When I'm not busy blogging or creating products for my home and my shop, you can find me on Facebook and Twitter. I hope you'll stop by one of these places and say "hi!"
Now all that's left is for me to thank Samantha a TON for letting me take over her awesome blog for a day.
XOXO,
Jane